Dusting off DooM '93 for a refreshing break, I managed to leisurely make it through most of episode 2 before my watch reminded me that I should in fact, get off my fat butt and walk around a bit.
I'm well reminded of how the map designers were often out to get the player. E2M6: Halls of the damned has a rather obtuse layout by modern norms but really good flow for a DooM map. Magic closets unleashing enemies are kind of overused, but it's a pretty nice map.
On DoomMaps: we can see a fair look at the various curves and bends that funnel you towards monsters.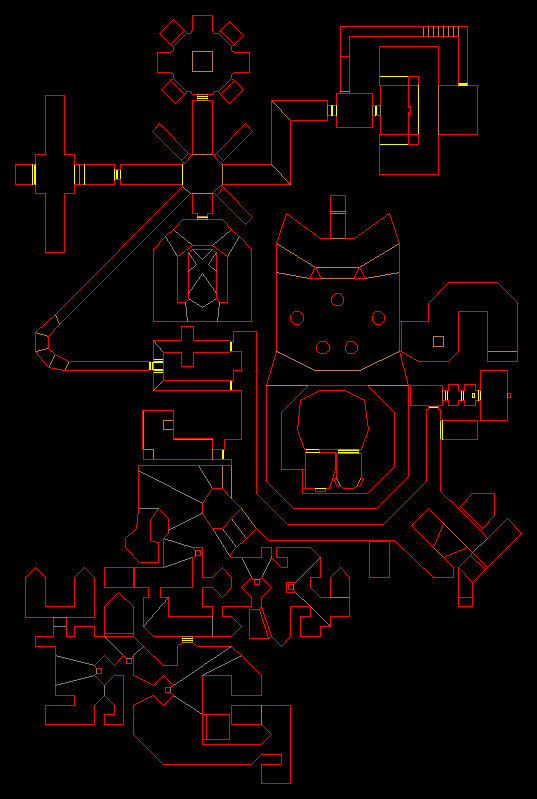 Having survived the dance of shotguns between mobs, painted the halls in plasma and exploding lost souls, and said screw it and chainsawed through hordes of Pinkies, I eventually came across a second exit door guarded by the yellow skull key. It's been long enough since I've played episode 2 that I had no real recollection of this, but of course by that point in the map I was really not surprised when this turns out to be a fake exit door leading to Cacodemons, shotgun guys, lost souls, and other things making the back of my mind shout, "PLASMA, PLASMA!!!"
Confession: when the closet full of demons opened up on the way back to the real exit door, I opted to whip out the chainsaw in order to conserve my plasma cells and chaingun bullets for E2M7.