Saturday's walk, rather wiped me out to the point that I could barely sleep from the pain in my feet. It wasn't so bad afterwards but by the end of the day, it wasn't pretty. About three weeks ago, I noticed that my boots are worn enough that the right outsole has cracked all the way through, such that you can flex it enough to stick fingers through to the sock if you try 😲. For me, that's actually not so bad, given my history with footwear from before I started to wear boots, but still means new ones are overdue.
In retrospect, going for a 2.5 km walk in the park was probably not the brightest idea, even if my feet haven't been paining me as part of my regular days. But just the same, after spending Sunday trying to actively stay off my feet to recover, I think buying new boots has gone from "Yeah, I should plan on that" status to "Do I want to do that over vacation" status. Soaking my feet also made a good opportunity to catch up on my reading for the weekend.
Today, on the positive side, I've felt well enough to be mostly unencumbered. Sore enough that I wouldn't be inclined to go for a long walk, but normal enough not to be bothered. To the point that farting around the computer, I didn't have any problems making routine trips downstairs to refill my water, rather than keeping a canteen handy.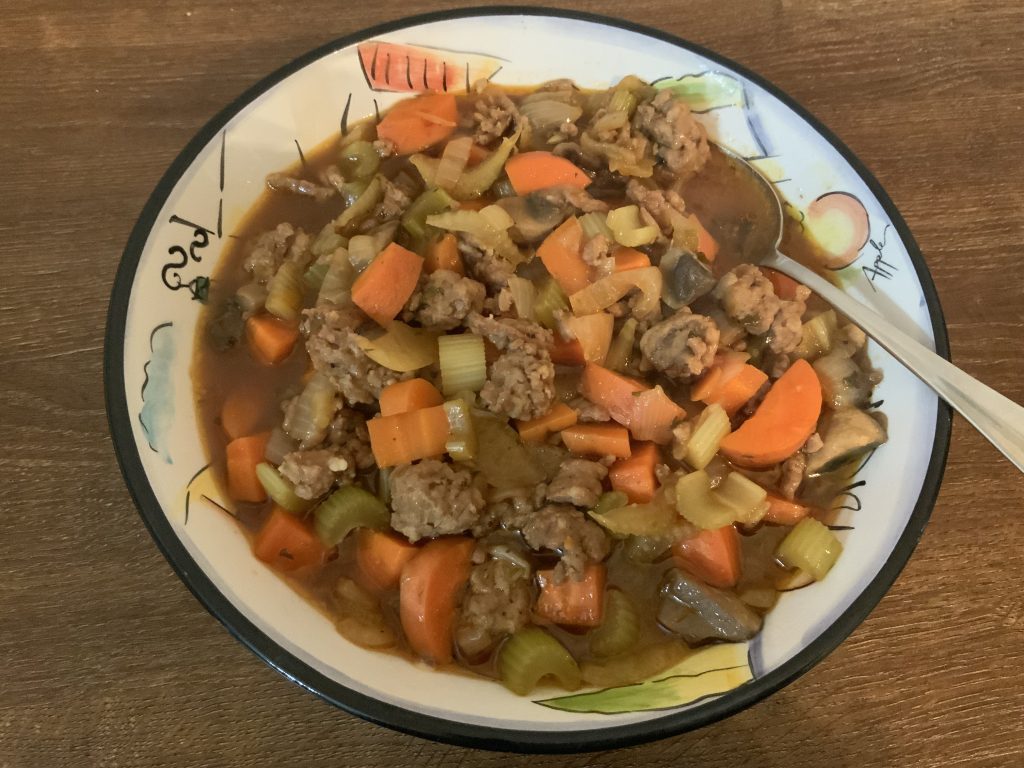 Taking advantage of the day off, I decided to start on early on dinner plans that I drafted yesterday. Mirepoix (carrots, celery, onions), a few leftover mushrooms, and some ground sausage made in the fashion of beef stew using stock and seasonings. I had bought the celery planning on such a meal, but had yet to go for it. Figured, best do it while the carrots and onions were still good.
While such a stew can be accelerated by preparing the vegetables the night ahead, simmering soups and stews aren't an expeditious cooking experience. Which means more time spent standing in the kitchen, lol.