About 12:45, Willow passed away with the vet's assistance. Her internals were shutting down enough that I don't anything the vet could do would have done much more than drag out the suffering a few hours, or at worst a few days.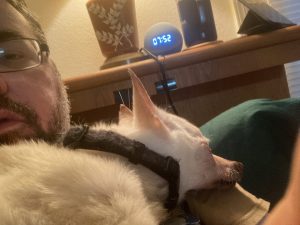 She had stopped eating and drinking enough that she spent a few days on an IV, and seemed to perk up. Her blood work neither improved nor worsened, so I decided to at least try making it through the weekend. But in a few days started refusing dog food and spent her last couple nights on a diet of boiled chicken and rice. Last night, I think we got about 45 minutes of sleep as she would keep barking and refusing any food or water. This morning she refused her pill wrap with the arthritis meds, something she had previously accepted despite the eating issue. Willow basically spent the morning shifting between barking a few times and going back to sleep. By the time I decided to accelerate the trip to the vet instead of waiting for our appointment, I think her kidney's were already starting to give out.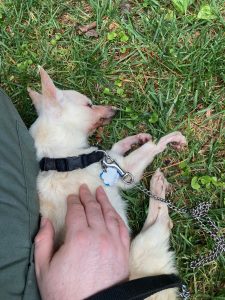 Before taking her to the vet, I decided to sit in the grass with her one last time. I think she still had enough awareness left to enjoy that sensation, but was so close to the edge that I was surprised she was still breathing when we made it to the vet. If I didn't worry what pain she might wake up in, we might have just sat there until she passed.
Willow was by my side from when she was about 6 months old until her end, about 18 years later. I love you little monkey, and I hope when my own time comes that you'll be waiting for me at the bridge. She was the best girl.